The Ultimate Backpacking Checklist For 2022
If you were wondering what to pack on your first backpacking trip, welcome to the backpacking world! Here is a backpacking gear checklist to guide you. After days of research, we've assembled the best backpacking checklist for a successful backpacking trip, helping you to save weight and pack all your backpacking gear.
All backpacking trips must include the ten essential items, irrespective of creating the ultimate backpacking checklist for a day hike, a 3-day backpacking checklist, or packing backpacking gear for trekking (consider trekking poles for the latter). We've broken down the items explaining why you should pack them and included the editor's choice in each category, from footwear to shelter to food and optional luxury items.
10 Essential Gear Items For Backpacking Trips
Never leave home without the items on the essential backpacking checklist. Whether your backpacking trip is for a day, a week, or multi-day backpacking trips, these are the ten essential backpacking gear that should always be in your backpack. The details vary according to the trip; a day hike may only require the lightweight gear on the essentials list.
Navigation. A personal locator beacon (PLB), paper map, and compass should be sufficient navigational help for a short trip, but the satellite GPS device and altimeter become essential on longer trips. Some GPS hiking trail apps work in areas where there is no cell service.
Headlamp. Include extra batteries. You don't want to be walking hiking trails at night and end up without light.
Sun Protection. Don't underestimate the sun, even on cloudy days. Take sunglasses, sunscreen, chapstick and sun-protective clothes. 
First Aid Kit. Remember foot care, bear spray if backpacking in bear country, and insect repellent as required for the area you'll be hiking. 
Knife or Multi-Tool. Also, include a gear repair kit.
Firestarter. Waterproof matches, reliable lighter, or tinder are a must for overnight campsites; a camp stove is convenient on short trips but essential for extended periods. It's good to have a backup firestarter.
Shelter or Camping Gear. Always carry some sort of shelter, even if it is light emergency bivy. It makes a huge difference to sleep comfortably and to be protected against the elements at night.
Extra Water. Take extra water, food, and clothes than the minimum expectation. Pack a type of water filter; you don't want to drink unfiltered water from unknown water sources.
Extra Food. Calorie-dense, compact, and lightweight food like dehydrated meals are the best. Don't forget trail mix or other types of snacks for in-between meals.
Extra Clothes. A windbreaker is great for the occasional nasty bought of weather – even more so if this piece of your hiking gear is waterproof.
The Lightweight Backpacking Hiking Gear Checklist For A Successful Backpacking Trip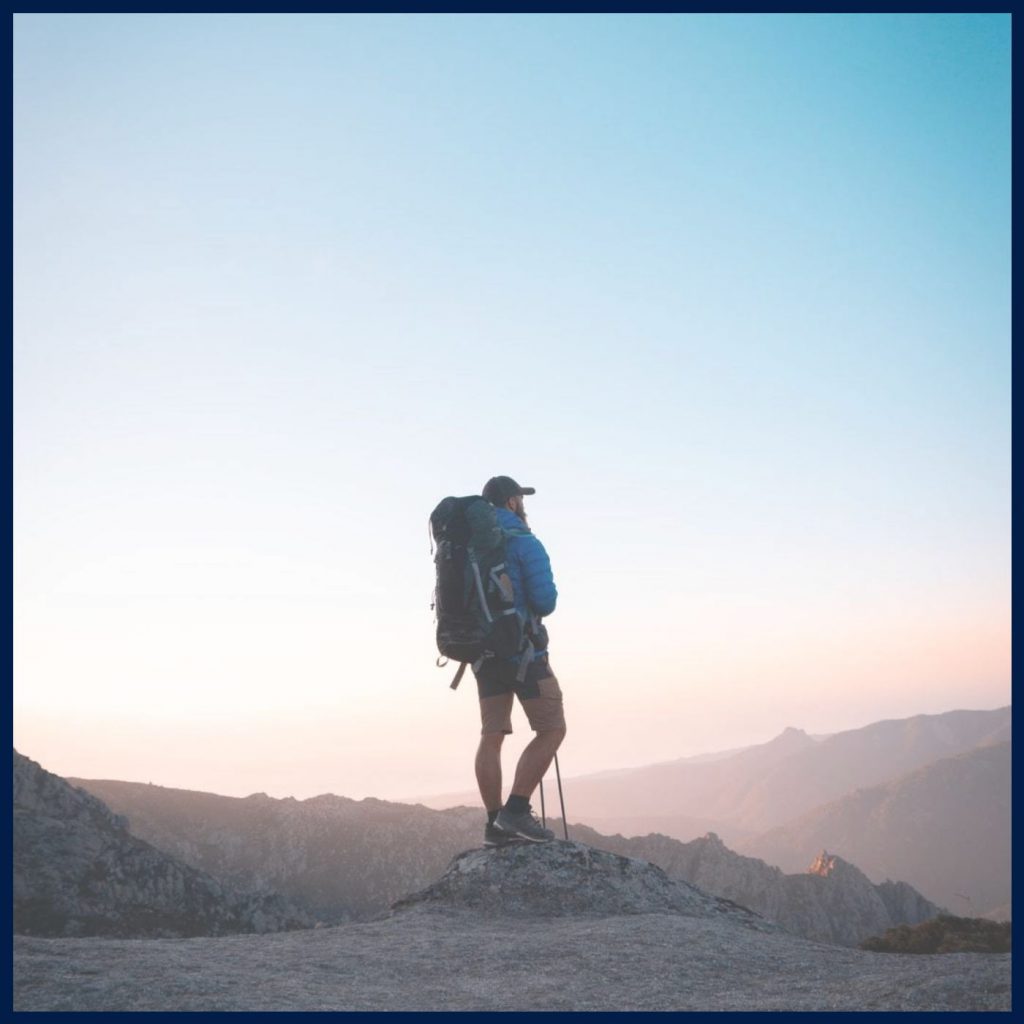 Backpacking Pack
Having the right backpacking pack makes a huge difference to the success of the backpacking trip and how much you are going to enjoy the adventure. Before purchasing the backpacking pack, assemble most of your gear to know what size of backpack you need. The duration of your backpacking adventure also determines the backpack size.
20-30 liter for a hiking day trip or overnight backpacking
30-50 liter for a weekend or 2-3 nights
45-55 liter for multiple days or 2-5 nights
55+ liter for extended trekking trips of 5 or more nights
Beginner backpackers are still learning to economize gear, and hikers carrying a lot of equipment may require larger-sized backpacks – 50-60-liter for a weekend and 60-80-liter for a few days.
You'll be carrying the pack for extended periods; it must be the right size fit for your body for the most comfort. Most of the weight should be on hips and lower body, 20% at the front of shoulders, and no weight on top of shoulders.
Check the torso length, which is the measurement from the base of your neck (C7 vertebrae) to the center of your spine between your hip bones (iliac crest). The chest and hip straps must sit comfortably for your body type; wider straps chafe less. Padded straps and a good suspension system are essential for longer trips.
Choose a lightweight backpack that weighs less than 2 lbs; you don't want to carry the extra weight of a heavy, empty backpack.
The Gregory Mountain Products Zulu 55 L backpack is an excellent pick for overnight hiking, where you don't need to carry all the gear required for longer trips. The lightweight backpack features an adjustable, back-hugging ventilated frame, a comfortable hip belt, and multiple ways to access content in the main compartment.
If caught in the rain, the rain cover is quickly accessible to keep the backpack and its content dry. The adjustable frame allows you to dial your torso length for the perfect fit and the mesh ventilation keeps you cool. Free-floating padding at the lumbar area adapts to your body shape for a comfortable fit.
The floating top lid comes with two zippered pockets; raise it 4 inches for additional packing space. The front stretch mesh pocket is situated within easy reach on the go. The lid can hold a sleeping pad, tent body, or other oversized items by securing it between the cover and the main compartment's top.
You can access the main compartment from three directions, through the top drawstring closure, the zippered front panel, or the sleeping bag hatch. These different ways give you access at different angles, making it easy to reach items stashed deep inside the bag; you don't want to search for items you urgently need, like the first aid kit, rain gear, or toilet paper.
The water bottle stretch pockets hold bottles securely, and the holster-style opening gives easy access. The backpack also features a front stretch mesh pocket and two oversized zippered pockets on the hip belt. The latter is ideal for storing a cell phone, small camera, or snacks.
The Gregory Mountain Products Jade, 53 Liter backpack, is the same backpack designed for women.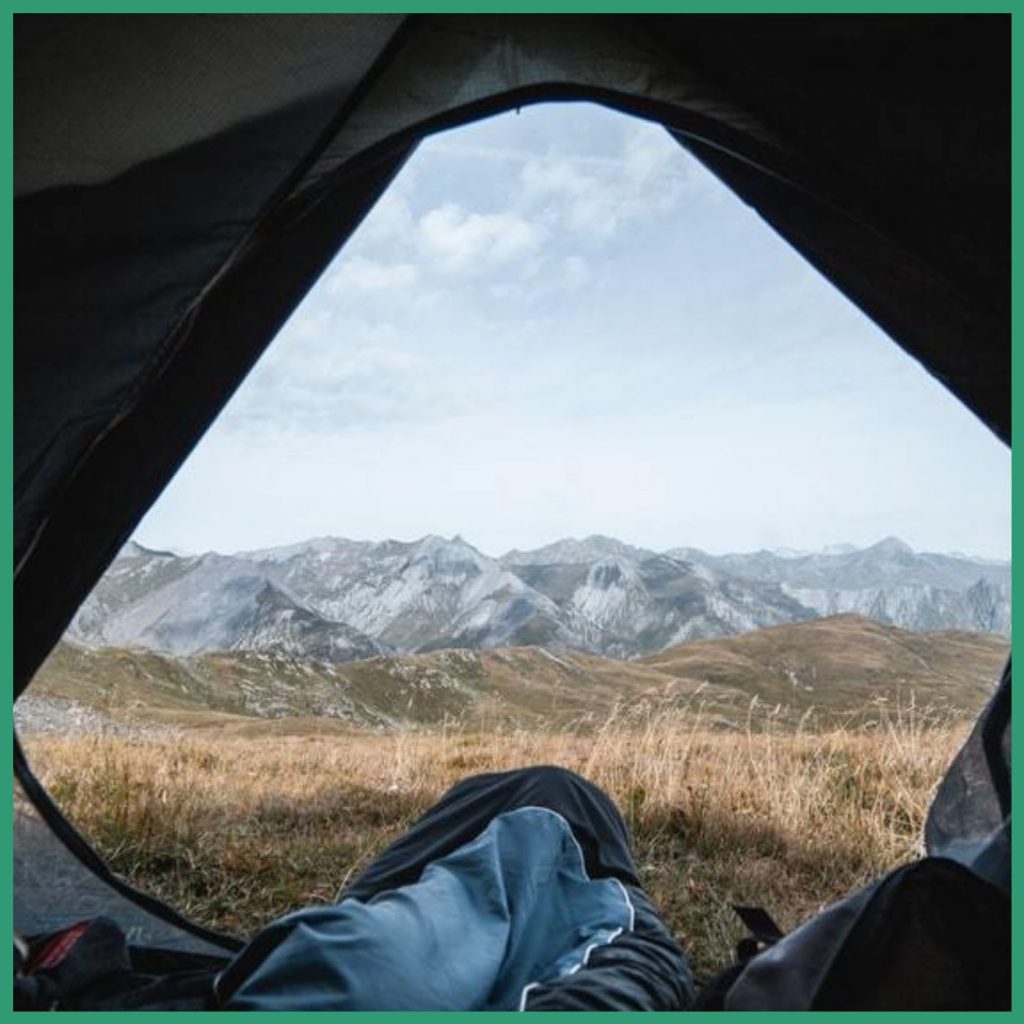 Sleeping Bag And Compression Stuff Sack
A quality sleeping bag will give you the excellent night's rest you need when backpacking or trekking. Examine the shape, temperature rating, size, and insulation type when purchasing a sleeping bag for future trips.
Temperature ratings reflecting different seasons; also consider whether you are a cold or warm sleeper. Choose a sleeping bag rated at least 10 degrees colder than what you expect the lowest temperature will be. The rule of thumb temperature ratings are:
0 degrees and up for summer trips
-15 to -1 degree for three-season backpacking
-15 degrees and below for winter backpacking
Mummy sleeping bags work well for mountain trips, but some backpackers may find the shape claustrophobic, while others enjoy the snugness. Lightweight summer quilts or duvets are trendy for casual backpacking and summer camping. Down insulation is lighter and easier to pack but more expensive and takes longer to dry than synthetic materials.
The Soulout three-to-four seasons Sleeping Bag will keep you comfortable and warm from 32-77 degrees Fahrenheit. It is an excellent sleeping bag for any season and in near-freezing temperatures.
With the waterproof double-layer technology, you'll stay snug even if rain or dampness seeps into the tent. The 100% polyester lining is comfortable against your skin, and the high-quality 210T polyester materials make it a durable sleeping bag that will last. The fabric cleans easily by wiping it or washing it in the washing machine.
The sleeping bags come with left or right zippers making it possible to zip two together for a bigger sleeping bag, perfect for couples. A single size measures 33 x 86.6 inches and weighs 4 pounds. Fully unzipped, the sleeping bag functions as a picnic blanket or for kids to play.
Space is limited when backpacking; the more you carry, the heavier the load. The sleeping bag comes with a compression stack and straps to roll it up for easy carrying and storage.
Backpacking Tent
One of the essential items on the backpacking gear checklist is shelter. Even if you are going on a day trip, take some shelter along – you never know what can happen; you don't want to be caught unawares if there is a sudden weather change or you need to stay, and you didn't plan for an overnight trip.
The backpacking tent features depend on the type of backpacking trip and how you plan to use the shelter. Tents range from a lightweight bivy that keeps the bugs out, ultralight tents as alternatives to traditional tents, to a sturdy winter tent that withstands snow and gale-force winds.
A three-season backpacking tent is lightweight and durable for Spring to Fall in most places. It includes a rain fly.
A three-to-four season tent is sturdier and with fewer mesh panels and is warmer for late Fall and early Spring weather. The tent works well in high-altitudes with some snow.
A Four-season tent is for winter backpackers. These mountaineering tents, with their domelike structures, are designed for harsh conditions.
The tent footprint means the space the tent takes upon the ground. The number of people who fit in the tent is the standard sizing for tents, but there is no space to move around or store gear. Therefore, a two-person tent will give one person moving space and a place to store equipment.
One of the pieces of gear that may save your life is an emergency shelter. Tents can blow away, or an emergency may occur like a sudden weather change (not mentioned by the weather forecast) that requires sufficient outdoor gear to survive until the storm passes.
The Alps Mountaineering Lynx 1- Person Tent is the perfect tent for cold nights and novices wanting a frustration-free setup. The free-standing, aluminum two-pole design assembles effortlessly. Clips snap over the poles, and you're ready to move in.
Durable zippers on the door and vestibules close securely, protecting you and your backpacking gear against chillier weather and wild animals. The vestibule offers a storage place for your gear. Inside the tent, the overhead gear loft and side mesh storage pockets keep essential items at hand.
Half mesh walls offer satisfying ventilation, and the factory sealed fly and floor seams protect against the weather. The 75D 185T polyester fly design ensures it staying taut and resists UV damage. The 75D 185T polyester taffeta floor has a 20cm coating for added protection against wet seeping into the tent.
The tent area is 10 square feet with a 2.8 x 7.6 inches base size. The single door helps keep the weight down to 3 lbs 5 oz.
Sleeping Pad
Packing a sleeping pad may seem unnecessary until you've slept on a cold or wet surface; it is one of the necessary camping gear items to ensure a comfortable sleep. A sleeping pad provides the insulation layer you need between your sleeping bag and the cold ground. The higher the R-value, the more insulation.
The three types of sleeping pads are:
Inflatable insulated sleeping pads featuring insulation are lightweight and compact to carry.
Self-inflating sleeping pads are also comfortable but bulkier than inflatable insulated sleeping pads.
Closed-cell foam is budget-friendly but takes up space you could've used for something else.
When deflated, the inflatable HiHiker Camping Sleeping Pad takes up little space, the size of a bottle, and is easy to store in its carrying bag. The 2.2-inch thick sleeping pad conforms to your body for a comfortable experience and protection against the hard, cold ground.
Easy to inflate, the compressed camping mattress inflates to 75 x 23 inches; it only takes 10-15 breathes. The airtight valve closure prevents air leakage, ensuring it won't deflate during the night. In the morning, opening the air valve will quickly deflate the sleeping pad, compressing it to a 3 x 8-inch size that weighs 14.5 oz.
With eight color varieties, you can select your preference and brighten the shelter. The premium 20D TPU material is waterproof, durable for consistent use, washable, and ripstop; you can safely use it anywhere you don't want to sit or lie on the ground. Included in the purchase are the carrying bag and a sleeping pad patch kit for the unlikely tear that may occur.
Is A Pillow On The Backpacking Checklist?
If you've ever slept on an uncomfortable pillow or without one, you know how a pillow affects your entire body and night's rest. Pack a compact pillow, or use a pillowcase stuffed with clothing if you lack packing space.
A pillow must be comfortable, compressible, and ultralight. These factors depend on where you plan on using the pillow. When sleeping in the back of the car on a road trip, the pillow size and compressibility isn't as crucial as backpacking, where every ounce and packing space counts.
In six vibrant colors, the Trekology Aluft 2.0 Ultralight Inflatable Camping Travel Pillow is the ideal pillow for a comfortable sleep when backpacking, camping, on road trips, or traveling by plane. The ergonomically designed pillow supports your neck and spine, even in the wilds.
An elastic strap at the back fits around the sleeping pad or office chair for lumbar support. The detachable latch design keeps the pillow in place, and the rubber dots cause friction between your sleeping pad and the pillow reducing slippage while in use.
Pull the bag's drawstring to remove the pillow from its carrying case. It takes about three to five breathes to inflate to 16 x 12 x 4 inches. The patented air valve protects the pillow from accidentally deflating. The valve button has two positions, down for deflation and up for inflation. You need to press the button to change the position; it won't change position without a deliberate push, protecting the pillow from deflating during sleep.
The durable elastic TPU fabric is soothing against the skin and durable. The ergonomic design supports all sleeping positions for neck and back support. Lighter than a soda can, the pillow weighs 3.9 oz and folds down to 5 x 2 inches.
Backpacking Equipment – Cooking
Keep the cookware equipment simple, functional, lightweight, and compact to pack. 
Backpacking Camp Stove (don't forget fuel)
Whether you are taking an overnight backpacking trip or a couple of days, a hot cup of coffee and a warm meal after a long day of backpacking are essential luxuries you don't want to go without. Yes, you can build a campfire to boil water and leave the stove at home, but many areas have fire restrictions. Besides, some backpacking stoves are compact but powerful for quickly boiling water and cooking a meal.
When buying a backpacking stove, consider the boil time and simmer abilities, weight, packed size, fuel efficiency, and how it operates in cold and wind.
The four stove categories are:
Canister stoves screw directly onto the fuel canister filled with isobutane-propane. These stoves have little maintenance and easy to use.
Liquid fuel stoves connect to refillable fuel bottles containing white gas, kerosene, or gasoline. These stoves work well in cold conditions.
Alcohol stoves are simple to operate, light, cheap, but primitive and less efficient.
Wood Burning Stove cooks over a fire in a compact space; you don't need to pack fuel. Cooking time is unpredictable but could be fun for casual backpackers.
Backpacking Kitchen Gear
You can purchase a stove kit that includes the cooking gear, a compact cook-set, or you can pack it separately. The backpacking kitchen gear items include:
a cooking pot that doubles as an eating and drinking bowl
bowl if you're not eating from the cooking pot
mug or cup (optional)
spork – metal and titanium utensils last longer than plastic spoons and forks
biodegradable soap and microfiber cloth for dishwashing and drying dishes 
The MSR PocketRocket 2 Mini Stove Kit has everything a solo backpacker needs for a hot meal. The nifty stove kit boils 1 liter of water in 3.5 minutes. Everything fits neatly in the cooking pot, including a 4-ounce MSR fuel canister (bought separately.)
You don't need to pack an extra pot or eat bowl; with the pot's insulated grip, you can easily handle it as a drinking or eating vessel or pour the food or beverage into a bowl. The pot's lid doubles as a filter, and the bowl is hot and cold safe., which means you can store leftovers from your meal as a snack for later.
The entire kit weighs only 9.9 ounces, and it's small; it measures 4 x 4 x 5 inches. The stove kit includes a PocketRocket 2 stove, 0.75-liter hard-anodized aluminum post, clear lid with straining ports, 16-ounce bowl, ultralight mini pot lifter, and a stuff sack for storage. You need to purchase the MSR Isopro fuel canister separately.
Set it on solid ground to avoid the wind blowing it over. The pot support secures the pot and can accommodate different-sized pots. The little stove adjusts heat from hot to simmer, allowing you the luxury of simmering your food. It also cools fast to repack and continue your trip. The burner head clip with three areas means the wind can blow out two places, and the third stays lit.
Water Filter/Purifier
Water filters and purifiers that provide clean water from dirty water are items on the backpacking essentials list. Even if the water looks good, you don't know the water sources. Filtering water through a tube with activated carbon, chemicals, or UV lights is the most common water treatment technique. Filter styles vary in size, durability, range from emergency straw filters, pump filters to gravity filters. If hiking in areas where human and animal waste is a concern, consider a purification system.
The Sawyer Squeeze Water Filtration System ensures you have clean water at all times while backpacking or traveling overseas. The 3 ounces filter fits in the palm of your hand, and the 32-ounce reusable squeeze pouches roll up when empty, taking up minimum space.
Fill the squeeze pouch with water from lakes, water, rivers, or faucets and screw the Squeeze filter onto the pouch. That's it, and you are ready to drink from the removable flap top cap. The Squeeze filter is reusable repeatedly after cleaning it, restoring diminishing water flow up to 98% with a backwash; no need for cartridges.
The system offers versatile hydration for all your needs and backpacking situations. The squeeze filer screws onto soda and water bottles with standard threaded tops. You can also install it inline on your hydration pack (purchased separately) or create a gravity filtration system with adapters, drinking straw, and mesh carrying pouch.
The filter's hollow fiber membrane is 75% stronger, enabling backwashing and provides a fast flow. The 0.1 absolute micron filtering ensures that no microplastics, harmful cysts, bacteria, protozoa, or sediment passes through; these fibers protect you against Cholera, Typhoid, and other potential diseases. Fully encased and sealed, the hollow fibers are protected against physical damage.
The water filter system includes two reusable 32-oz BPA-free collapsible pouches, a drinking straw, a mesh storage bag, and a set of Sawyer inline Hydration Pack Adapters.
Water Bottles
Your water capacity must be at least 2L. In moderate temperatures and moderate activity, you should drink about 500 ml (16.9 oz or 2 cups) of water per hour. A water bladder could be sufficient for an overnight trip, but you still need a water bottle to drink from during the day. Another alternative is a water reservoir inside the backpack with a water hose to drink while on the go.
One of the most valuable backpacking tips is choosing a wide-mouth water bottle for easier cleaning; there's no dishwasher out there.
The 32-ounce Nalgene Translucent Wide Mouth Bottle is Nalgene's best-selling water bottle for over 30 years. It is the best water bottle to keep you hydrated when backpacking, camping, going to the gym or office at home.
The water bottle holds hot and cold drinks from -40 to 212 degrees Fahrenheit. Cleaning with minimal effort is one of the most valuable backpacking tips for beginners. A wide-mouth bottle cleans much easier than a narrow mouth. It's also easier to add ice cubes to a wide-mouthed water bottle.
Completely leakproof, the bottle will not spill water on backpack content when lying on its side. The impact-resistant BPA-free Tritan material is almost indestructible, perfect for backpacking; your bottle won't break if accidentally bumped against rocks or if accidentally dropped. The water bottle is safe; materials are BPA-free, BPS-free, phthalate-free, and accommodates most water filters. The ounces and millimeter measures help with mixing exact quantities.
Backpacking Food Backpacker Meals
Whether it is day hikes or a couple of days, your backpacking gear checklist should include sufficient food and snacks. Pack enough and with wisdom so that you don't go hungry on your outdoor adventure. There is a variety of prepackaged dehydrated food available that you can select according to personal preferences. Freeze-dried and dehydrated meals take up less weight and are convenient; add boiling water, and it's ready to eat.
Breakfast ideas. Powdered juice or milk, instant coffee or tea, instant cereals or dry granola, dried fruits, nuts, or protein bars.
Lunch. Sealed meal packets, nuts, dried fruit, granola bars, energy bars, or beef jerky. Snacking throughout the day will sustain you until dinner; then, you don't have to take time preparing lunch.
Dinner. Packaged freeze-dried and dehydrated meals like soups, rice, potatoes, vegetables, sauces, couscous, and tuna. Salt and pepper or your favorite spice is an optional item if you have space.
Snacks. Snack on the go on nuts, seeds, dried fruits, granola bars, trail mix, or beef jerky.
Backpacking Tips For Meals
Pack each day's meals, beverage powder, and snacks separately to avoid rummaging through your backpack with each meal.
Create a meal plan beforehand, ensuring you eat nutritious meals, enough calories, and avoid snacking on chips and candy.
Remove unnecessary packaging before you pack the meals to decrease the carrying weight; the fewer packaging, the less trash to carry.
Pack food you enjoy eating, including calorie-dense food like chocolates or peanut butter.
When drinking water all day on the trail, a warm powdered beverage mix is a nice change.
Keep it simple; your cooking facility and equipment are minimal, so keep food preparation to the minimum.
Pack food that doesn't require any preparation too; breakdowns and accidents happen.
Calculate the amount of fuel needed to prepare all your meals to calculate the fuel you will need.
Use a vacuum sealer for food that isn't prepackaged; it prevents food spoiling.
In bear country, make sure you have a bear bag or bear canister to keep food safe from bears. Alternatively, use a lightweight rope 40-50 feet in length to hang your food. Some areas require you by law to use a bear canister. A waterproof bag that protects food against elements will also protect against bears.
Convenient! The Mountain House Chili Mac With Beef and other meals are high protein and calorie-dense food for backpackers. The backpacking meals are tasty and contain no artificial flavors, preservatives, or colors.
Add 3/4 cup of hot water to the pouch, stir, wait, stir again, and enjoy! It takes less than 10 minutes to prepare, and there is no cleaning up afterward; you can eat the meal directly from the pouch. The Chilli Mac With Beef pouch contains pillowy macaroni noodles, beef, and beans in a chili sauce providing 30g protein and 570 calories.
Mountain House freeze-dried backpacking food has a 30-year shelf-life, the longest in the industry. US Armed Forces for Long-Rage-Cold-Weather patrols use Mountain house meals for rations. It is also an excellent food for survival and emergencies.
Make sure you add these meals to your backpacking gear list. For breakfast, there is a Breakfast Skillet or Scrambled Eggs with Bacon. Chicken & Rice and Beef Stroganoff make enjoyable dinners.
Essential Backpacking Clothing
Packing suitable clothing and footwear is essential, especially with limited packing space. Ensure the clothes are moisture-wicking (avoid cotton) and break in hiking footwear or trail shoes before the hike. Wear layers of clothing so you can add or remove as the weather changes; layering prepares you for unforeseen weather changes.
Hiking Footwear. Having the right pair of hiking boots or trail runners with socks will make your backpacking enjoyable and fun. Excellent tread and grip keep feet steady without skidding or slipping on uneven terrain. Trail runners can handle rugged landscapes protecting your feet, whereas hiking boots protect your ankles better. If you are in winter conditions, consider a snowshoe set.
Hiking Socks. Socks help with moisture-wicking and prevent blisters and chafing—pack extra socks. Accidents happen; if you fall in the river, you don't want to walk in damp socks.
Rain Gear: Rain Jacket and Rain Pants. Rain gear is backpacking essentials that protect you from getting wet.
Hardshell Jacket. Lightweight gear features breathability to keep you cool for summer backpacking. For harsher weather conditions and mountain backpacking, you should invest in a hardshell jacket that is highly waterproof, windproof, durable, and breathable. Consider the warmth to weight ratio before purchasing.
Quick-drying T-shirt. A short-sleeve T-shirt should suffice most of the time. Long sleeves protect better against sunburn.
Quick-drying hiking pants or hiking shorts. Depending on how long and where you are backpacking, you may need a pair of hiking pants and hiking shorts.
Quick-drying underwear and sports bra. Avoid cotton underwear; it takes a long time to dry and absorbs moisture causing discomfort and chafing.
Base layer top and bottom. Wear them instead of pajamas and use under clothing for warmth. Synthetic fabrics and merino wool are the best. On multi-day backpacking trips, changing into warm clothes will be a blessing at the end of the day.
Headgear. A wide-brimmed hat or baseball cap will protect your face against the sun, and wool and/or fleece beanie offers warmth.
Gloves. Keep hands warm day and night with gloves. A pair of gloves protect your hands against scratches and cuts.
According to our friends at Worksbootreview.com, the best hiking boot for general backpacking is the Columbia Newton Ridge Plus II. The shoes provide sure-footed treading on trails and lasting comfort, reducing foot fatigue during your backpacking adventures.
These lightweight hiking boots are waterproof to keep feet dry in drizzling or heavy rain. The durable midsoles design is comfortable with superior cushioning for shock absorption and a high energy return. The advanced Omni-grip traction and rubber sole offers secure footing, preventing slipping on rough terrain.
The Darn Tough Hiker Merino Wool Micro Crew Socks are all-weather socks, staying cool in summer and warm in winter. The merino wool, nylon, and Lycra Spandex combinations ensure no bunching, slipping, blisters, or damp feet.
Lycra Spandex offers a performance fit that keeps socks in place all day. The micro crew height peeks slightly over standard hiking boots protecting feet and legs from friction and chafing against boot material. The mid-level cushion density and wicking feature ensures comfortable, durable socks. The socks come with a lifetime guarantee.
The Columbia Men's Watertight II Jacket's 100% nylon shell withstands a drizzle to a downpour. The rain jacket keeps you dry; you don't want to be caught in a sudden rain shower, having to set up camp soaking wet. The Omni-Shield repels moisture, stays clean, and dries quickly. The nylon shell and 100% polyester lining will keep you dry from sweat on the inside and protect against rain from the outside.
Elastic details and zippered closures ensure a comfortable, snug fit with room for movement. An abrasion-resistant chin guard protects your chin from scratching against the zipper, and two zippered side pockets are ideal for hands or easy access to smaller items.
The lightweight rain jacket folds up, fitting inside one of its pockets; it weighs 12 ounces.
Necessary And Personal Items
Headlamp with fully charged batteries. Check the battery life before buying the headlamp.
Sunscreen or sun protection
Personal hygiene items including normal toiletries like toilet paper, trowel, Ziploc bag, shaving razor, toothbrush, toothpaste, and body wipes.
Towel
Lip balm with SPF avoids lips cracking and becoming dry.
Biodegradable soap is also used to wash dishes and clothes (when necessary).
Battery pack to recharge batteries or pack fresh batteries.
Hand sanitizer
Prescription meds
Bug spray (or bear canisters if you are in bear country)
First Aid Kit
Duct tape
Wet wipes are handy to wipe down sweaty hiking clothes at the end of a hiking day.
Nice-To-Have Extras
Binoculars
Camping hammocks
Book or e-Reader, crossword puzzles, headphones, or games for entertainment
Fishing kit
Battery bank with a micro-USB port or solar panel to charge your cell phone
Hiking poles or trekking poles take pressure off the knees downhill and help going uphill
Spice kit if you want to add flavor and do more than prepacked meals
Earplugs
Camp shoes or sandals are excellent alternatives for resting feet from wearing hiking boots
Camping chair
Needle and thread, safety pins
Camera gear. Amateur and professional photographers won't leave home without their photography gear. For them, camera gear belongs to the list of essential items.
Don't bring more than you need. Unnecessary equipment will just weigh you down. You wouldn't want to lug a document camera out of the classroom and into the wilderness, would you? Optical zoom, high definition – none of that matters but the weight.
Pack For Going Home
Packing a pack for the car should be on your backpacking checklist; you will be so glad you did! When you reach your vehicle after your hike, it will be nice to change into clean clothes and exchange the hiking shoes for sneakers or other comfortable shoes. What else should you pack for the car?
A set of clean clothes
Comfortable footwear
A gallon of water for trailhead shower
Towel to dry off
Water and snacks for the road trip home
Leave No Trace Principles
Day hikes and multi-day backpacking in the great outdoors are fun but remember the Leave No Trace principles. Empty dehydrated food packages, toilet paper, tissues, and other waste should not be left behind. What you carry in, you carry out. The Leave No Trace principles for any number of day hiking trips are:
Prepare and plan your next trip.
Camp and hike on durable surfaces.
Dispose of waste properly; don't leave trash behind.
Be careful with fire and minimize campfire impacts.
Respect the wildlife and nature.
Be considerate towards others.
We trust this comprehensive backpacking checklist guide helped you pack for your next backpacking trip. What backpacking checklist tips do you have to share with readers?